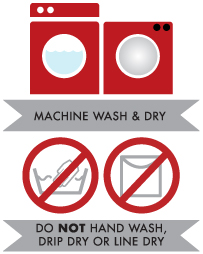 Caring for your garment as instructed below is essential to getting the full 4-6 months of wear. Regular washing prolongs the useful life of the garment and maintains the ideal compression characteristics.

Washing
To wash your garment, please place the arm sleeve, gauntlet or glove in a lingerie/delicates bag and machine wash the garment on delicates setting in warm water using a gentle fabric detergent.

Drying
Keep the garment in the delicates bag, machine dry at low heat until completely dry.

Do Not:
Wash in hot water
Dry on high heat setting
Dry on any setting for an excessively long duration
Wring the garments dry
Hand wash
Dry clean
Use any chemical solvent or bleach, fabric softener or any other laundry additive
Use creams, oils, and lotions immediately prior to donning the garment
Doing any of the above can compromise the delicate nature of the fibers that make up your garment, can more rapidly deteriorate compression and lower the useful lifespan of the garment. For best results, we recommend rotating between 2 or more garments and washing the garments frequently in between use.